Colson Koeltechniek - Airconditioning in Maastricht is active in the field of airconditioning and freezing technology for over 25 years. We offer an extensive line of professional products as well as airconditioners (for example) for domestic use.

In the professional sector we sell and install cooling and freezing equipment for hotels, restaurants etcetera. A few examples of these products are: refrigerated cabinets, blast chillers and shock freezers, refrigerated wine storage cabinets, refrigerated display cases, refrigerated saladettes, refrigerated counters, refrigerated islands, cold rooms for chilling and deep freeze applications and ice cube machines.

Amongst the brands we represent are: Afinox, Arneg, Celltherm, Fujitsu, Hoshizaki, Isobar, Jumbo, Liebherr, Mitsubishi, Mizushi and Wessamat. Though the rest of this web site is presented in Dutch only, you are cordially invited to browse around. On any page you can click the Colson logo to transfer directly to the main index page. Further you can use the left and right arrows to go to the previous or next document in a specific group. Clicking the names and hoover buttons in the right navigation bar takes you to the selected area directly.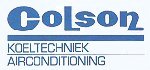 over menu