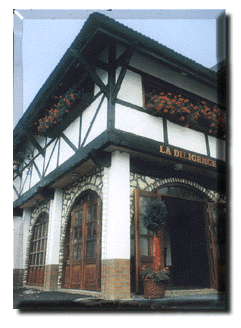 "Uitspanning" is the Dutch term to describe a stop off point for coachmen during long journeys. These were usually situated in a remote location, a place for coach drivers to change their horses and gain sustenance.
More than just a museum La Diligence invites you to step back in time and experience a nostalgic journey into this unique period. Set in the heart of Limburg, La Diligence offers you a variety of things to see.
Visit our very special and unparalleled coach museum which contains a wide selection of horse pulled vehicles ranging from a royal state coach to a funeral carriage, as well as our unique collection of curiosities connected to traveling in days gone by.
Sample our traditional cuisine whilst relaxing in the comfortable surroundings of our theme restaurant and terrace cafe, able to cater for large and small parties.
Finally why not hire out one of our horses and carriages, a perfect way to make a special occasion even more special. Enquire about conditions of hire free of charge.
A great day out for all the family!
Gallery, Museum, Restaurant, Reservations